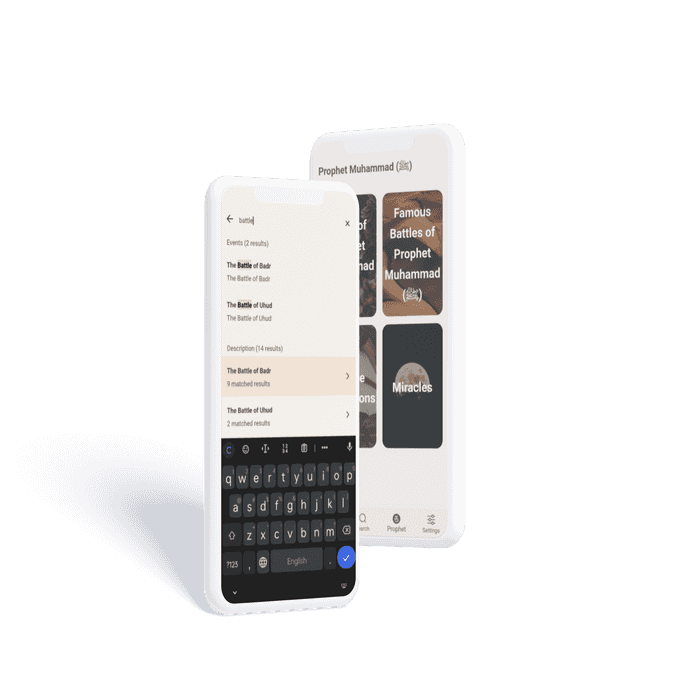 Here's What You Get
Authentic Seerah Books
Our Seerah app contains prominent books to know about the life of Prophet Muhammad ﷺ. Right now, it has the award-winning Ar-Raheequl Makhtum (English and Bangla) and Prophetic Timeline by MRDF (English) Seerah books. We're adding more books gradually.
Prophetic Timeline
Each book has three eras, such as Pre-Prophethood, Makki, and Madani era, to learn the life events of Rasulullah ﷺ in chronological order. It covers his biography from his birth and even before that day for background information until the day he died.
Summary of Key Events
The app has a dedicated seerah summary section of some notable events like the famous battles of Prophet Muhammad ﷺ, his wives, miracles, remarkable conversions, and more.
Powerful Search
The app allows you to search and find any topic quickly. You can search both in English and Bengali.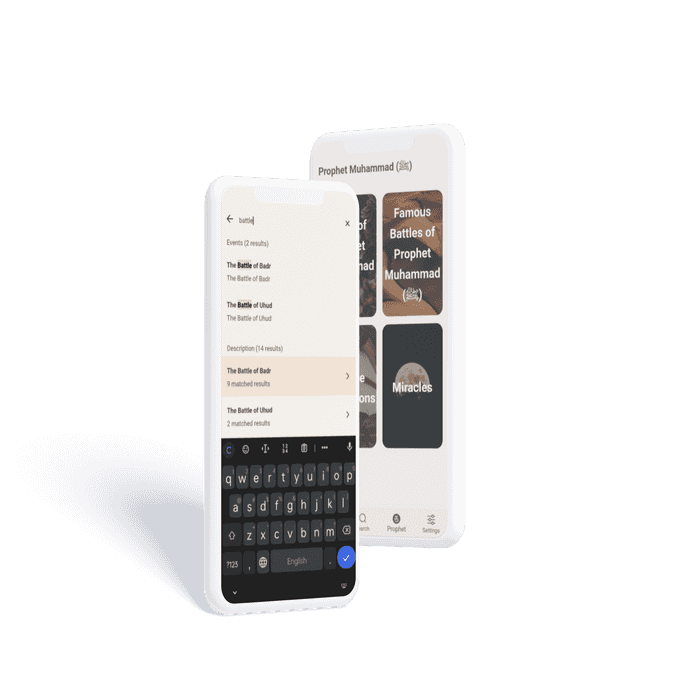 Here's What You Get
Lessons and Wisdoms
In the 'Prophetic Timeline' book, you will find the "Lessons and Wisdom" section with each event. It will help you understand more profound meanings, wisdom, and lessons extracted from the events of seerah.
Best Seerah App
Seerah of Prophet Muhammad ﷺ app has user-friendly navigation and includes all the necessary features. The app is available on Android and iOS. Let's install this beautiful app to know and love Rasulullah ﷺ even more.
Edicts and Rulings
While you read any chapter from 'Prophetic Timeline' Seerah's book, you can learn and get in depth knowledge from the "Edicts and Rulings" option.
Miscellaneous
The Seerah app has a last read feature that helps you quickly find where you left off. You can adjust the font size to read comfortably. You can also share events, share apps, and many more from this app.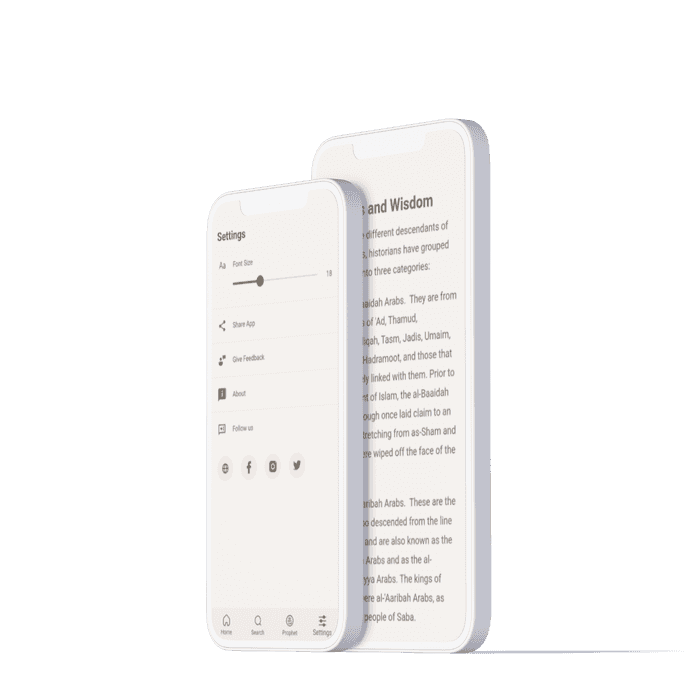 What Our
Users
Had To Say?
R
Rafiul Islam
Alhamdulillah, another good initiative. May Allah put barakah in each one of your projects and accept it,make it a means to forgive your sins and make you the neighbours of the prophet in Al firdaus. May Allah grant us hidayah, get benefit from these and gather us all in the market of Jannah along with the prophets,messengers, companions and with the rigtheous.
A
Aerides Rosea
MashaAllah, started reading at Madinah's part and the feelinging of the first time of seeing masjid al Nabawi is coming back. Please add the audio. I believe it will benefit even more. JAK.
What Our
Users
Had To Say?
A
Abdulmajid Muhammad
Masha Allah, May Allah reward you for these beneficial App, May Allah continue to guide us All in our affairs.
A
Abubakar Hussaini Muhammad
Alhamdulillah for this wonderful app. I downloaded it a few days ago and all about the app is good, the interface, it's content, ads free and convenient. I've been using quite alot of your applications. Well done GTAF. جزاكم الله خيرا
M
Muhammad
Though I already have Sealed Nectar book yet so excited to see this App, I trust greentech fully cause I already have Al-Qur'an and it's a fine work from greentech, May Allah SWT reward you.
Visit All Projects