Hadith Collection (All in One)
Ultimate Collection Of Hadith Of The Prophet (ﷺ)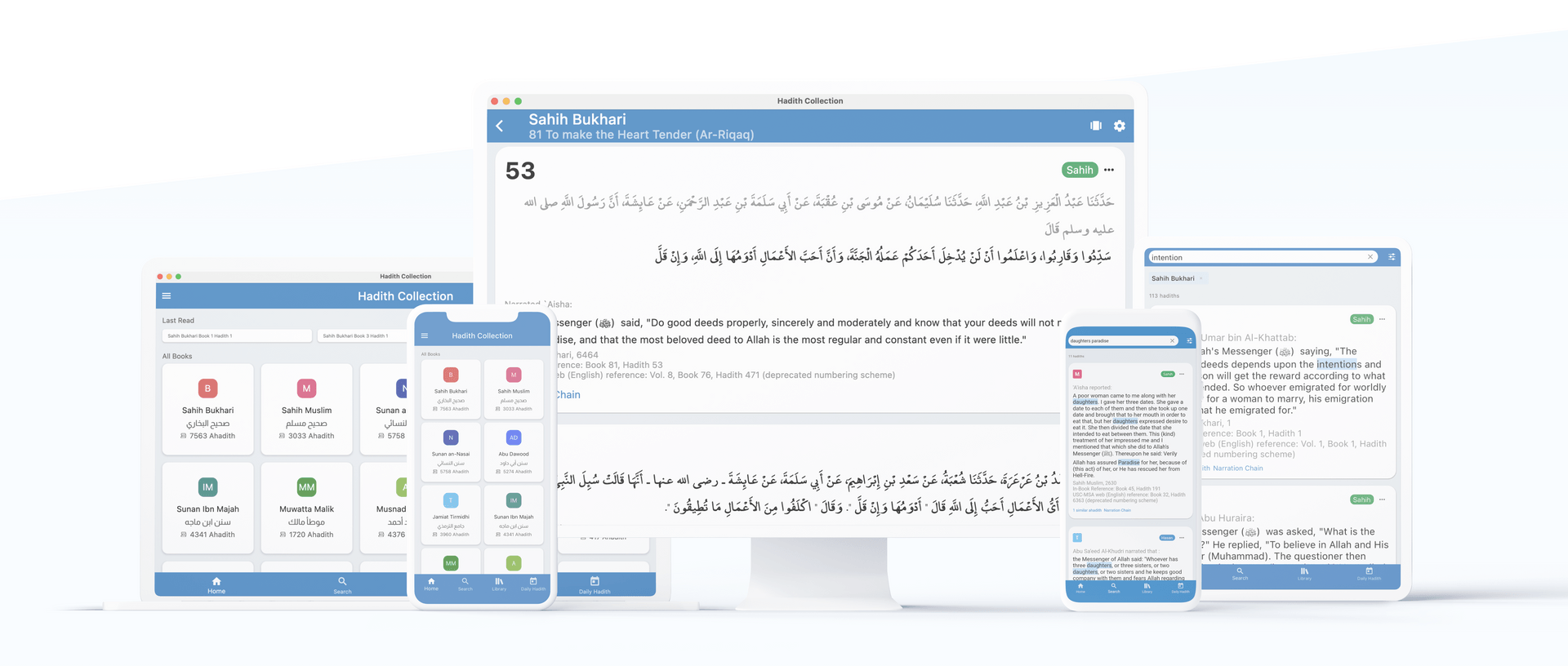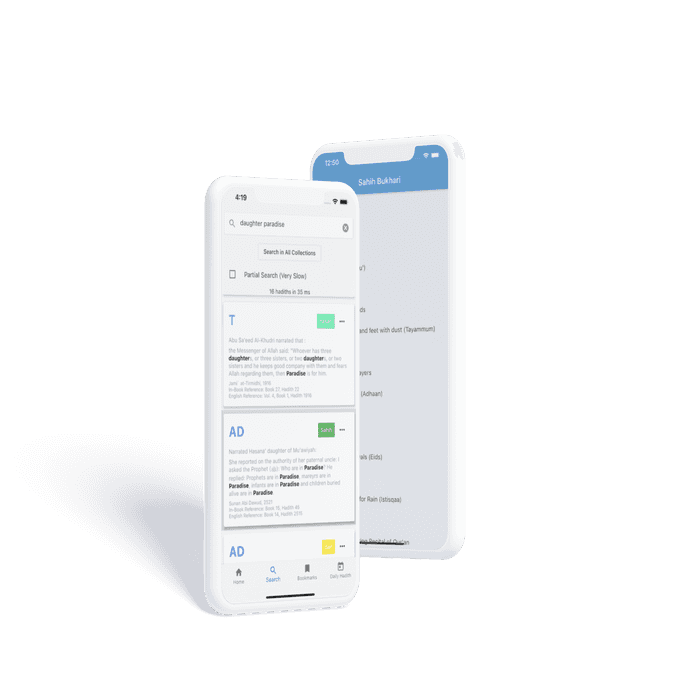 Here's What You Get
41000+ Ahadith
Read 41000+ Ahadith from the most accepted and authentic hadith books. With Arabic hadiths, English translations are also available. And we'll also add translations in multiple languages soon. You can read hadith either list view or card view.
Hadith Grade
Know the Hadith Grade (Sahih, Hasan, Daif, etc.) decisions by distinguished Muhaddiths. Besides this, Similar Ahadith and Narration Chains are two beneficial features to study hadith and understand the hadith authenticity.
Powerful Search
Find any Hadith by Searching using any word, either Arabic or English. You can search in different types like All Words, Any Word, and Exact Phrases. To narrow down the search, you can select the hadith book's names. From settings, you can delete search history.
Library
Bookmark hadiths to your own Collections and keep track of the last read hadith using Pins. You can also Export or Import Pins and Collections from here.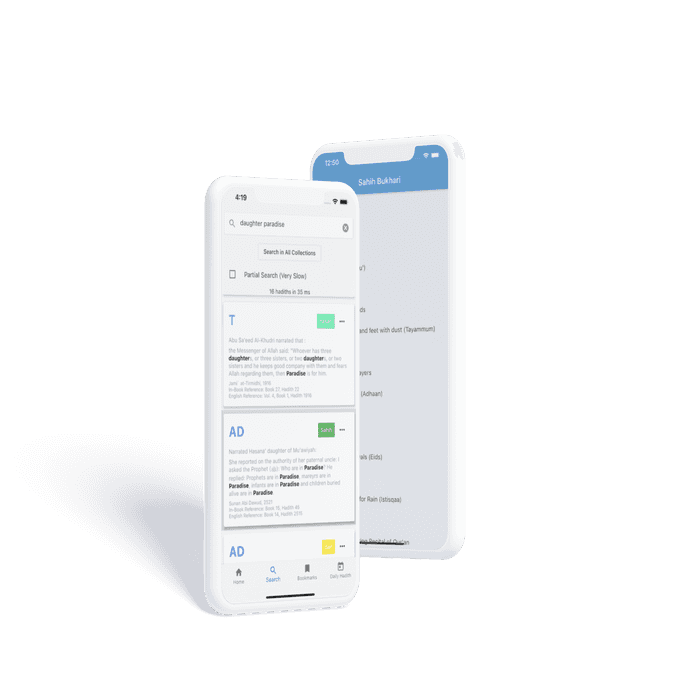 Here's What You Get
Daily Hadith
Get a daily hadith notification that will remind you of one hadith every day from the extensive hadith collection. You can change the notification time from settings.
Other Helpful Features
Besides these, there are many other helpful features on this app, such as adjustable font size, dark mode, hadith gallery, app share, copy and share hadiths, take part in donations, help and feedback, etc.
15+ Hadith Books
The hadith app includes 15+ prominent hadith books such as Sahih Bukhari, Sahih Muslim, Sunan Abu Dawood, Sunan an-Nasai, Jami at-Tirmidhi, Sunan Ibn Majah, Muwatta Malik, Musnad Ahmad, Bulug Al Maram, Al-Adab Al-Mufrad, Collections of 40 Ahadith (including hadith Qudsi, 40 hadith Nawawi, 40 hadith of Shah Waliullah Dehlawi), Riyad us Saliheen, Shamail Muhammadiyah, Mishkat al-Masabih, Hisn al-Muslim. And hadiths are classified into subject-wise chapters in each Prophetic hadith book.
Universal & Best Hadith App
The Hadith collection app is completely Free and Ads free, which will elevate your hadith experience. Unlike the awesome features, this hadith app is available to download for mostly all devices like Android, iPhone, MacOS, and Windows.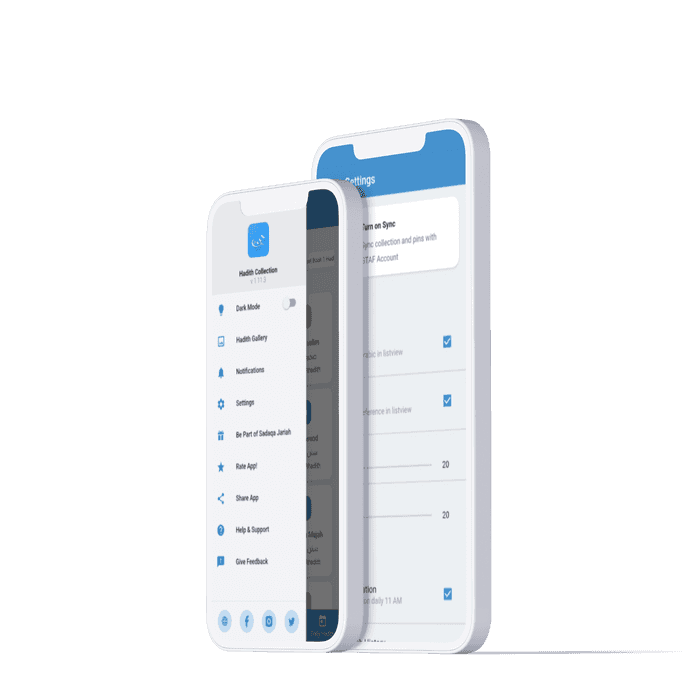 What Our
Users
Had To Say?
M
Md Sohil Ansar
A++ Unbelievably Beautiful.. Undoubtedly it is one of the most useful Islamic application available in android market. Want to have authentic sayings of Muhammad (pbuh) ? It is the final terminal... I love it so much..
M
Mohammed Nawaz
Very easy to use. Great app Alhamdulillah. Got all Hadiths in one app now instead of several different apps. Excellent. May Allah reward you.
What Our
Users
Had To Say?
S
Sadman Sakib
Amazing work done ♥♥ mashaAllah.
I
Irda Noordin
JazakAllah Khair. Absolutely useful. An all-in-one with easy search. May Allah accept your deeds and efforts and grant you the best of thus world and the next. Ameen. Ya Rabb.
B
Bayo Fasasi
Excellent, worth recommendation,i rated this app six stars,imploy my fellow Muslims brothers and sisters to download it and feel the uniqueness of it.
Visit All Projects