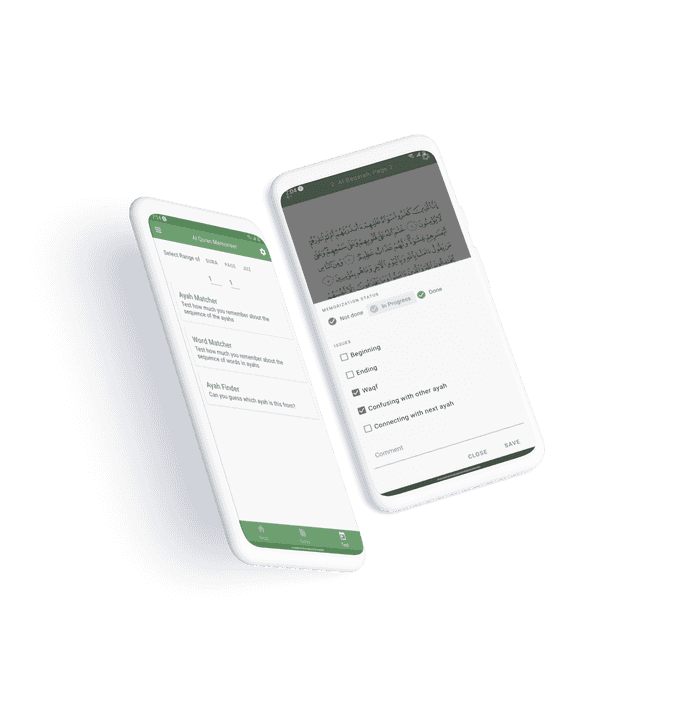 Here's What You Get
Mushaf
Read and Memorise the Quran from Madani Mushaf.
Memorisation status
Keep track of your Hifz by changing the memorisation status of an Ayah or Surah.
Annotation & Marking
Annotate & Mark issues with a particular Ayah or Word to pay special attention.
Test
Test Your skills by Ayah matcher, Word matcher, Ayah finder tests.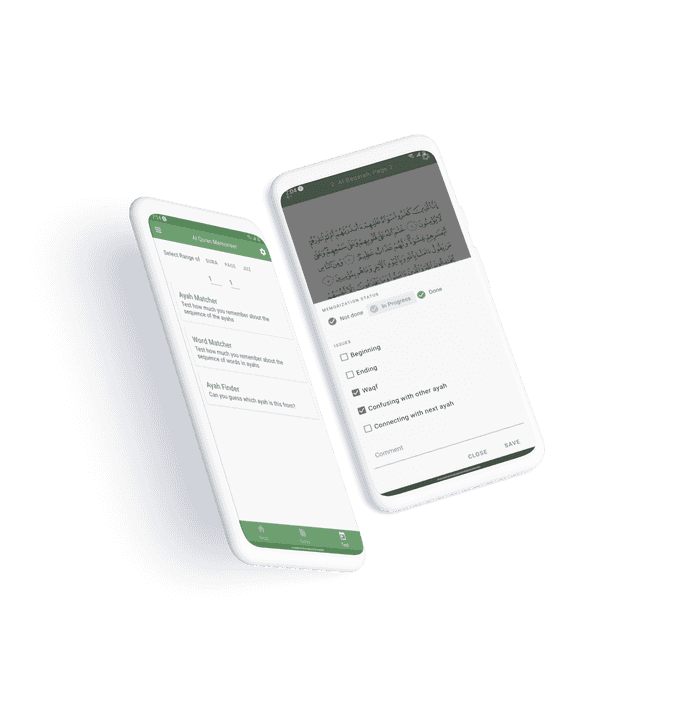 What Our
Users
Had To Say?
A
Al
I love your Quran app. It really revolutionised the way I study, read and memorise Quran, so was excited to download this too. I love having the option to hide ayat. I also like that you can keep tabs of what you've memorised but it would be good if there was an option to quickly document you've memorised the page whilst you are on it. Another idea could be to have reminders to go over quran previously memorised at spaced intervals, depending on how well you recited it, a bit like Anki app.
M
Mohammed Afzal Khan
Assalaamu alaikum wa rahmatullaahi wa barakaatuh. May Allah subhaanahu wa ta'aala reward you immensely for this beautiful work and may He, The Most Merciful give you Baraka. Please add multi user mode. JazakamUllahu Khairan Katheera.
What Our
Users
Had To Say?
A
Ahmad Rabia
The first time I rate an app .. it deserves 5 stars .. I tried many apps but this is the best app that will help you to memorise Quran .. no ads, simple and easy to use with Great options
Y
Yami Torbieu
I have so far found the app very useful and beneficial to me. A lot of thought has gone into producing something so interactive and quite intuitive in encouraging the user to positively engage with the product. I hope this app touches as many hearts as it did mine and I pray that Allah swt make this effort a means of sadaqatul jariyyah for the developers - aameen. The only snag is the font size which I found to be quite small.
M
Mahmuda Mim
MashaAllah. Very helpful app to keep log. Greentech's apps are the best Quran and daily Muslim need apps I have come across indeed. I have a suggestion for you to consider. Please add a 'Hifz Progress Report' option. So that we can see how many ayahs, pages, percent we have memorized. Jazakallahu Khairan.
Visit All Projects