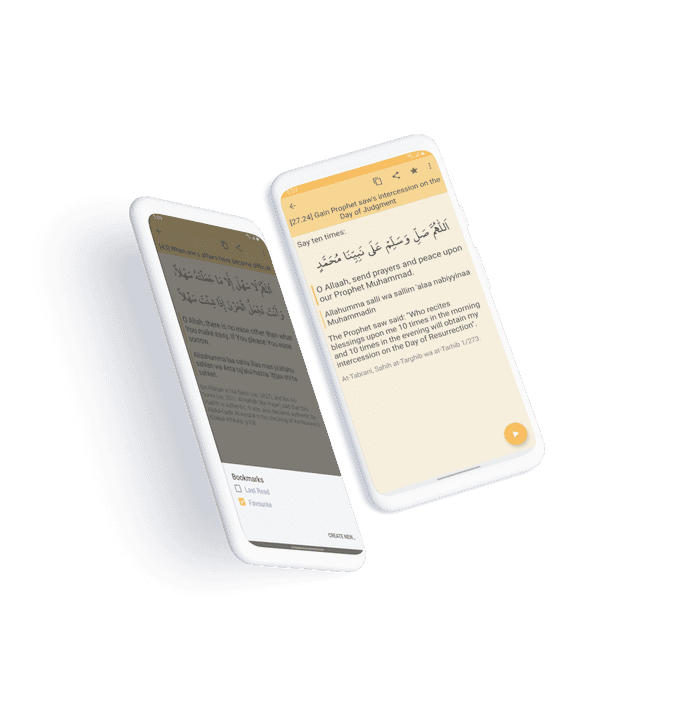 Here's What You Get
300+ Duas
The Dua and Zikr app is a wonderful compilation of authentic Duas and Azkar, containing over 300 Masnoon Duas. Most of the duas are compiled from Hisnul Muslim, and some others are taken from the noble Quran. Each dua includes references from the Quran or Hadith.
Dua Categories
The duas are organized into categories to help you easily find the desired dua. The categories include Salah, Morning and Evening, Sleep, Quranic Duas, Ruqyah, Seeking Refuge, Travel, Illness-Death, Ramadan-Fasting, Family, Purification, Gratitude-Repentance, etc.
Transliteration and WBW Translation
Our Hisnul Muslim app provides meanings for each dua. Additionally, each dua includes transliteration and word-by-word translation. You can easily enable or disable them from settings.
Dua Audio
This Islamic Dua app allows you to listen to each dua separately. It will help you learn and pronounce the dua correctly. You can also download all the audio on your device to listen offline.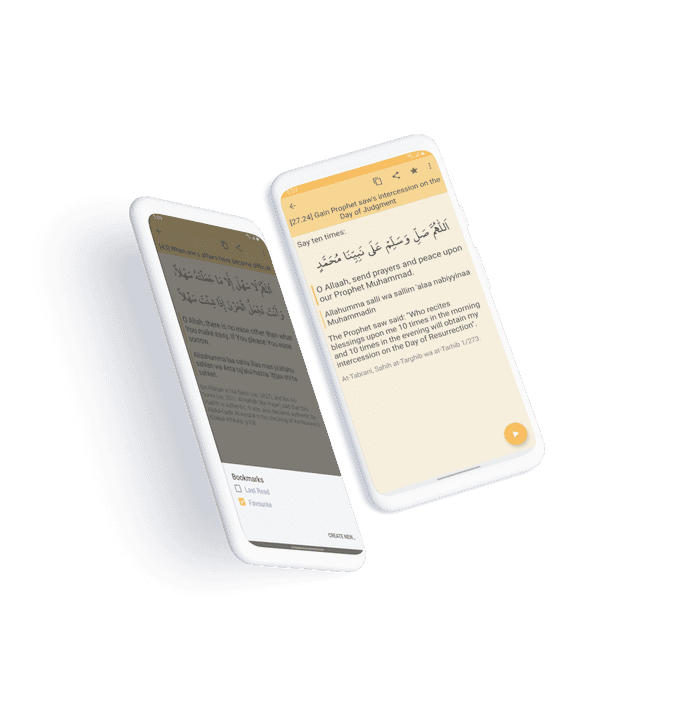 Here's What You Get
Dua Search
Quickly find any dua by searching relevant words in our Dua and Zikr (Hisnul Muslim) app. There is also a remove search history option.
Bookmark
The Hisnul Muslim dua app allows you to bookmark your favourite dua and see the last duas you read under the bookmark. Moreover, you can back up your bookmark and restore it when necessary.
Customization
This best dua app has three themes: Day, Night, and Auto, allowing you to choose the one you like. You can also adjust the Arabic and Translation font sizes to suit your needs.
Miscellaneous
Our Zikr and Dua app gives you daily ayah and hadith notifications as a reminder. You can use the app on Android, iPhone, iPad, and web. Moreover, you can share any dua, share the dua app link, and many more.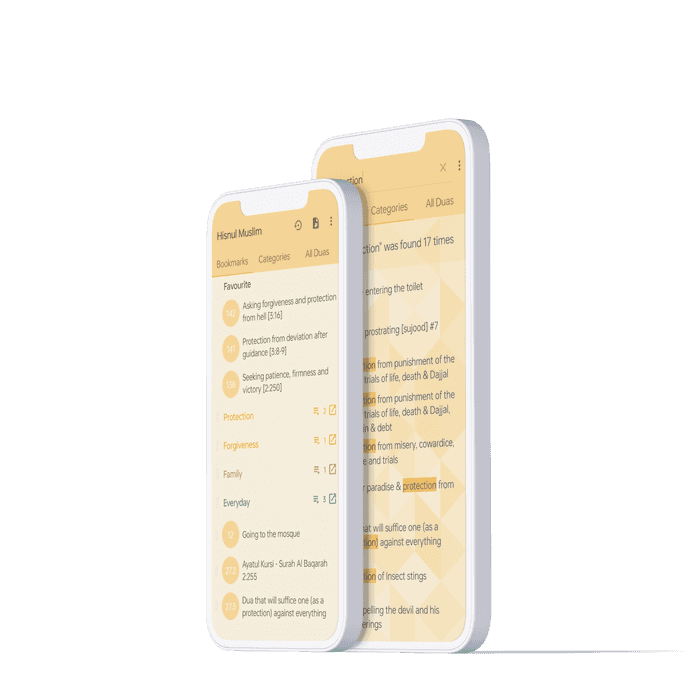 What Our
Users
Had To Say?
K
Kawsu Kanagi
one of the greatest app of all times. this app is just what it is. wish I was part of the developers so that i could reap the benefits and rewads. Jazakallahukhairan to the team that develops this app. MasaAllah you have done a great work. This app is adds free. I recommend this app to everyone as through this app I learn and memorise the list of all morning and evening duas. am so greatful, thanks developers!
Z
Zakaria Izeboudjene
Amazing app subhanallah, no adds and nothing is locked behind a pay wall, may Allah bless the creators
What Our
Users
Had To Say?
M
Mohammad Ibn Mozaffar
Ma Sha Allah. Such a nice and important application. May Allah reward all the developers with good.
N
Norah A
I love this app so much! No advertisements or anything alhamdullilah. Can easily read my morning and evening athkar with no issues. I guess it can be a little difficult finding the adiyat but you can bookmark them easily once you do find them 👍🏾. Overall one of the best apps on my phone! Also has a new hadith everyday, very nice feature in my opinion.
S
Sadiya Kauser
Masha allah. This app is the best app for dua. It is very easy to use. May Allah SWT grant you reward in duniya and Akhirah. Jazakumullahu. Khairan kasira
Visit All Projects