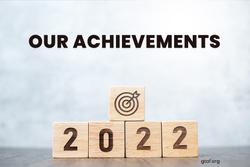 Over the past year, our organization has made significant strides towards achieving our goals. We've taken concrete steps to become more organized, enhancing our performance and efficiency. At the same time, we've worked hard to engage more closely with our users to better understand their needs and concerns. Throughout this period, we've remained committed to solving new problems and pushing the boundaries of what's possible. Overall, we're content with the progress we've made over the past year, alhamdulillah and look forward to building on these achievements as we continue to grow and innovate in the future.
01. Being More Organized
We wanted to be more organised to deliver our best to the Ummah. As part of the ongoing process, we sat together and set our vision, missions and values. We set up Scorecards to keep us on target and take action when things go down.
We have started providing training modules and gadgets to our staff to uplift their skills and effectiveness. We want to create a culture of openness, proactivity and continuous improvement.
02. Hearing more from the users and solving their problems
As part of our efforts to hear more from our users and solve their problems, we have implemented a user feedback platform at feedback.gtaf.org. This platform allows users to share their feedback, suggestions, and concerns directly with our team, enabling us to respond quickly and address any issues that may arise.
The image below shows that we have received numerous feedback and requests since we initiated this platform. The most feedback received was for our Quran app (514), Hadith app (58) and finally, our Dua app (41).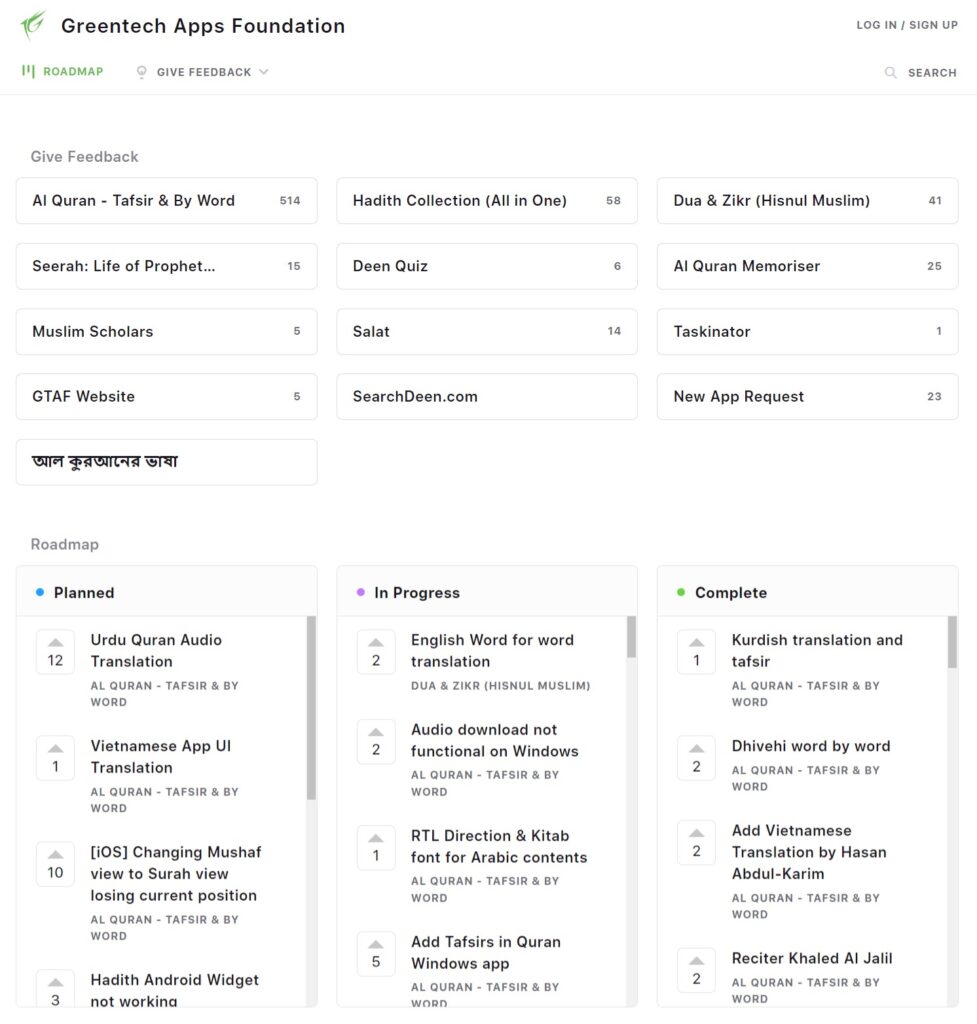 In addition to our user feedback platform, we have also integrated Chatwoot, a customer messaging platform that allows users to communicate with our team directly. This feature enables us to provide quick and personalized support to our users, and to address any issues or concerns that they may have in a timely manner.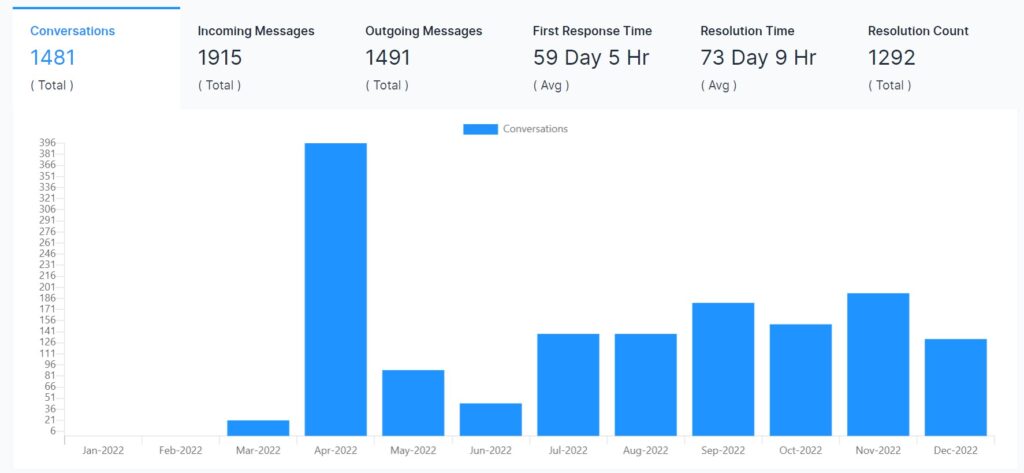 In 2022, we had a total of 1481 conversations with our users via chatwoot. Alhamdulillah, we have been able to resolve 1292 of those conversations successfully.
In line with those feedbacks, we have developed a number of new features for our Quran, Hadith and Dua apps. These include a Surah search function that allows users to search for specific Surahs by name or number, translations in 14 new languages, auto night mode to name a few. We have also released a Windows version of our Quran application, which was highly requested by our users.
Finally, to further enhance the user experience, we have revamped the bookmark feature of our hadith app making it similar to the Quran app ensuring a consistent experience throughout our applications. These features enable users to organise and manage their bookmarks more effectively, and to sync their bookmarks across multiple devices using their profile.
03. User Stats for More Engagement
We have introduced user stats to our apps to increase user engagement. By providing users with detailed insights into their activity within our apps, we are creating a more personalized and engaging experience.
04. Solving New Problems
In order to solve new problems, we recognized the need to provide a comprehensive and accurate source of information on the life and teachings of Prophet Muhammad ﷺ. To address this need, we have developed a Seerah app that includes the renowned book "Ar Raheequl Makhtum" in both English and Bangla.
To enhance the learning experience for users of our Quran app, we have introduced word by word audio highlighting and playback support. This feature allows users to listen to the text being read out loud, with each word highlighted as it is spoken. This makes it easier for users to follow along and understand the text, especially for those who are not familiar with the Arabic language.
To solve new problems, we have conducted research and development on automating the extraction of people's names from Hadith literature. This is a complex task that involves identifying and extracting the names of individuals mentioned in the text, which can then be used for further analysis and research.
Reaching Millions of People
At the year-end, our apps were installed on nearly 2 million devices.

Our apps are available throughout the world. The top countries are:
Bangladesh
Indonesia
India
Malaysia
Nigeria
United Kingdom
USA
Saudi Arabia
Singapore
Active installs per country (Android platform only)
Our Goals For 2023
As we move into 2023, it's important to identify our yearly goals and objectives that will help us to better serve the ummah. Here are the goals that we believe are important to focus on:
01. Improving App Stability and Retention
One of the primary goals for 2023 should be to improve the stability and retention of our apps. This can be achieved through a range of initiatives such as conducting regular bug fixes, creating test cases, and implementing continuous integration and continuous delivery (CI/CD) processes. However, it's also important to focus on improving the onboarding experience for our users to increase the retention of our app.
02. Language Expansion
We believe that expanding our products to support more languages such as Quran, Hadith, Seerah in more languages will help us to reach a wider audience and serve the ummah better.
03. Robust Sharing and Community Engagement
Integrating robust sharing mechanisms and community engagement features in our products can help us to foster a stronger sense of community and engagement among our users.
04. Expanding to Web Platform
Expanding our products to a web platform can help us to reach users who prefer to access our content on desktop devices. This can be achieved through creating web versions of our existing apps or developing new apps specifically for the web. Platforms like SearchDeen and Deen Quiz can be great for this, allowing users to access content and engage with our products from any device with internet access.

Overall, these goals will help us to improve the stability and retention of our apps, reach a wider audience through language expansion, foster a stronger sense of community engagement, and expand our reach to users on the web. By prioritising these objectives, we can continue to serve the ummah better in 2023 and beyond.
Stay Up To Date
Don't miss our latest updates & releases