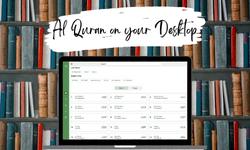 Assalamu 'alaykum wa rahmatullah.
Dear GTAF family, we are ecstatic to announce that we have finally launched the much-awaited desktop version of our Quran app, alhamdulillah.
We have received numerous requests for this specific release, and we know how you all have longed for a desktop app for quite some time now. It was about time we brought it to you all, and we would like you to use this app as your own. Alhamdulillah, we have created the most robust Quran (desktop) study tool available in the market! We have put our heart and soul into this and are excited to share it with everyone!
As the world is going digital and the Quran is being translated into new languages, the time is ripe for a Quran Desktop App release. This app will be your go-to place for studying and reading the Quran. It introduces an easy way to read the Quran, giving users a simpler and more positive experience. This app is perfect for those who spend most of their time on their desktop.
This App is successful due to the collaborative effort from Zunaid, Eusha, Nabil, Nafi, Araf and Abid. May Allah be pleased with their efforts.
Here's what you get:
Word by Word TranslationRead Word by Word translations of the Quran in Bangla, English, German, Hindi, Indonesian, Ingush, Malay, Russian, Tamil, Turkish and Urdu.
Translations & TafsirsUnderstand the Quran by studying 70+ Translations & Tafsirs of the Quran in 35+ Languages, including Tafsir Ibn Kathir in multiple languages.
TajweedRecite Tajweed colour-coded Quran with ease.
AudioListen to several Quran recitations by 30+ Reciters (downloadable for offline use).
Quran CorpusStudy and Analyse Word by Word Root and Lemma Information, Word Occurrences, Grammar, and Verb Forms to dive in more depth.
Robust Search Mechanism
We hope you enjoyed this article about our new Quran Desktop App. We are so excited to make this app available for our Muslim community and hope it will benefit you as well. To download the Quran app on your desktop, please visit this link.
You can also check out our other apps here.
If any of you are interested in linux app for Quran, you can put in a request by upvoting this, in shaa Allah.
Stay Up To Date
Don't miss our latest updates & releases