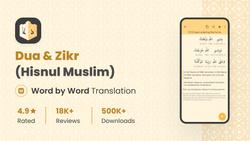 Assalamu alaikum wa rahmatullah,
We have some exciting news to share with you all. Alhamdulillah, the dream feature Word by Word Translation of the Dua & Zikr (Hisnul Muslim) English App [v1.10.3 for Android] has been launched successfully! We believe this is a game-changer for your Dua experience.
We're grateful to Allah for making us the pioneer to offer this feature for the English Dua. The work was primarily done by a volunteer sister, translating from Bangla & Arabic word by word to English – may Allah SWT safeguard her and bless her with Jannat ul Firdaus, Ameen.
The Word-by-Word English translation is now at your fingertips, making your connection with Allah SWT even more profound and insightful. Dive into the depths of each word, understand their meanings, and let your heart resonate with the beauty of every utterance.
How to Activate Word by Word Translation?
Be sure, you have updated your App to get Word by Word Translation. This feature is released on v1.10.3 Android.
Then activate it following the simple steps.
1. Go to settings
2. Tick on the word-by-word translation (under Display option)
The following video demonstrates how to activate word by word translation on dua and zikr app.
What Users Say About Dua & Zikr Word by Word Translation?
Here are several reviews of our users that they say about the Word by Word Translation of the Dua app.
Download the App Now!
If you haven't already joined the thousands who have embraced the power of our Dua & Zikr (Hisnul Muslim) app, now is the perfect time!
Visit gtaf.org/apps/hisnul and embark on this incredible journey of spiritual growth and connection.
Or Download it directly for Android devices from here: https://cutt.ly/XwfiM5rl
Support Us
For the past ten years, we have been working relentlessly to improve our apps that are helping Muslims worldwide. Millions of users are using our apps in their day-to-day life and getting closer to Allah SWT, hopefully.
This long journey has only been possible by Allah's grace and our donors' generous support. And you can onboard with us on this great journey of helping Muslims understand deen in a better way.
We invite you to contribute to our cause and become a monthly donor 💰.
You can help us reach millions of Muslims worldwide through our Islamic apps.
Your donation will serve as Sadaqah Jariyah – an ongoing charity that will benefit you both in this life and the hereafter.
Join us in our mission to bring people closer to Allah and multiply your rewards 💪!
You can easily donate here, gtaf.org/donate

Jazakallahu khairan.
Stay Up To Date
Don't miss our latest updates & releases