Ramadan is a special and important month for Muslims around the world. During this time, many Muslims strive to make it meaningful and productive by focusing on their faith, personal development, and cultivating good habits. They want to be regular in their salah, quran reciting and doing istegfar. In today's digital age, there are many apps available that can assist with this effort. In this article, we will explore some of the best apps for Ramadan to help make it a more meaningful and productive experience. 
Recite and Learn Quran with Best App For Ramadan 2023
01. Al Quran (Tafsir & by Word)
Price: Free / No Ads
The Al Quran (Tafsir & by Word) app is designed to help users deepen their understanding and memorization of the Quran. Its word-by-word analysis and translations provide users with root/lemma information, grammar details, and verb forms to help them gain a deeper understanding of the meaning of the text. The app also offers a Mushaf mode that allows users to recite the Quran in the same way as they would when reading from a hard copy, with several different Mushafs to choose from.
In addition to its study features, the app also includes a Quran Audio feature that offers recitations by more than 30 reciters including world's best Quran recitation. This feature has repeat and group playback functions to aid in Quran memorization, and reciters are tagged based on recitation types. From them you can easily choose your best Quran reciter and use it while following your daily Quran reading schedule.
The app also includes a Quran Planner feature that allows users to plan their Khatmah of the Quran, and a library with bookmark and note-taking features to help users keep track of their progress. The app offers various customization options, including Tajweed color-coded Quran, multiple fonts and themes, and night mode. In short, you can consider this as the best ramadan app for reciting quran and plan your Khatmah.
Additonally, you can explore the whole Quran according to your chosen topic by using the "Explore by Topic" options. And you can search any word/words, single word in the Quran. It has multiple Quran translations that are easy to understand.
Overall, the Al Quran (Tafsir & by Word) app offers a wide range of features and customization options to help users study and understand the Quran, make Quran memorization easy and is available for download on Android, iOS, macOS, and Windows platforms.
Links: Website / Android / iOS
02. Tarteel: Quran A.I.
Price: Free / No Ads
Tarteel is a Quran app that uses AI to provide a personalized experience for its users. It allows users to engage with the Quran through their voice, as the app listens to the recitation and displays the verses on the screen. Tarteel tracks user activity and adapts to their working patterns and goals to help them make a deep connection with the Quran. The app is free to use with no ads and prioritizes user privacy.

Tarteel Premium is a paid subscription service that offers advanced features such as Memorization Mistake Detection, Advanced Memorization Mode, Audio Playback, Challenges, and Advanced Progress Tracking. Users can set goals related to their engagement with the Quran and build lifelong habits using the app's detailed analytics. Tarteel has received positive feedback from over 500,000 users and is continually improving its platform based on user feedback. The app requires microphone access and a stable internet connection to function properly.
Links: Website / Android / iOS
03. Quran Majeed – القران الكريم by pakdata
Price: Contains Ads
The Quran Majeed app offers a user-friendly interface that allows users to easily navigate and interact with the Quranic text and its accompanying features. Users can choose from various recitations and translations, including English and Urdu translation audio in HD quality. The app also includes advanced audio options to aid in Quranic memorization, such as repetition, intervals, and recitation speed.

In addition to its core features, the app offers supplementary tools and information, such as a Qibla compass to help users find the direction of prayer, live streams from Makkah and Medina, information on halal places and masjids near the user, a Hijri calendar, and Quranic engagement meter. Users can also access a Hifz feature with voice recording and Allah's Names with audio.
Overall, the Quran Majeed app provides a comprehensive and accessible tool for Muslims to engage with the Quran and its teachings on a daily basis, regardless of their location or language proficiency.
Links: Website / Android / iOS
Apps for Making Dua and Reading Hadith
04. Dhikr & Dua by Life with Allah
Price: Free / No Ads
"Dhikr & Dua" is a new mobile application developed by Life With Allah, which is a da'wah initiative of Ummah Welfare Trust. The app is designed to help users read dhikr (remembrance of Allah) and beautiful duas (supplications) on a daily basis and on special occasions.

The app includes over 500 collection of dhikr and duas. Users can find translations, transliterations, and hadith or virtues related to each dhikr and dua. Additionally, the app includes audio recitations of each dhikr and dua, which users can listen to as they read along.
The app also includes an emotions feature, which allows users to select an emotion and receive a recommended dhikr or dua that may help alleviate that emotion. In addition, there are articles available within the app, which provide information on topics related to dhikr and duas.
To assist users in making a habit of daily dhikr and dua, the app includes a daily reminder feature. This feature reminds users to read a specific dhikr or dua at a specific time of day. Additionally, the app includes a counter feature, which helps users keep track of how many times they have recited a particular dhikr or dua.
Overall, the "Dhikr & Dua" app is a comprehensive tool for Muslims who want to incorporate more dhikr and duas into their daily routine. With its modern design and extensive features, it provides an accessible and user-friendly way to engage in spiritual practices.
Links: Website / Android / iOS
05. Dua & Zikr (Hisnul Muslim)
Price: Free / No Ads
The "Du'a and Zikr" app is a comprehensive collection of authentic duas and zikr for Muslims to use on a daily basis and on special occasions. It is based on the popular "Hisnul Muslim" book by Sheikh Sa'id Ibn Wahf Al-Qahtaani, which contains essential supplications for various daily activities, from waking up in the morning to sleeping at night.
The app includes over 326 collection beautiful duas from the Quran and Sunnah, with translations, transliterations, and benefits where applicable. Users can mark their favorite duas for easy access, and the font size can be adjusted to their preference. The app also features a search function with highlights, copy and share options, and categories for easy organization.
Some of the categories covered in the app include Salah (prayer), Morning & Evening, Sleep, Ramadan-Fasting, Quranic Duas, Food & Drink, Illness-Death, Ruqyah (Islamic exorcism), Seeking Refuge, Social Manners, Family, Powerful Dua for Rizq (provision), Gratitude-Repentance, Purification, Clothes, Hajj-Umrah, Travel, and Nature.
One of the notable features of the app is the absence of ads, making it a distraction-free tool for spiritual practice. The app also sends daily reminders to users, helping them maintain a consistent routine of supplication which makes it one of the best ramadan apps.
The "Du'a and Zikr" app is made with love by Greentech Apps Foundation, and it can be shared with others. Users can share the app with their loved ones via the share option, and they can also share audio files of the duas and zikr with their friends. Overall, the app is a useful resource for Muslims seeking to incorporate authentic Islamic duas and zikr into their daily lives.
Links: Website / Android / iOS
06. Hadith Collection (All in one)
Price: Free / No Ads
The Hadith Collection (All in one) app is a comprehensive collection of hadiths of Prophet Muhammad (ﷺ) from 14 authentic books, including Sahih al Bukhari, Sahih Muslim, Sunan Abu-Dawood, and others. The app offers over 41,000 hadiths, with various grades such as Sahih, Hasan, and Daif.
It also features a powerful hadith search options that allows users to search for specific words or phrases in Arabic or English. The app allows users to adjust the font size for both Arabic and translation, with the ability to pinch zoom to make the text larger or smaller. 
Additionally, it offers a hadith of the day feature, with the option to share the daily hadiths with loved ones via images. The app has no ads and allows users to add or remove bookmarks and favorites, which are synced online with Google Drive. It also remembers the user's last read position, allowing them to start reading from the exact hadith or dua from the hadith where they left off.
The app loads the hadith database quickly and offers multiple view modes, including list view and page mode. Furthermore, it includes chapters in some books and is available in both Arabic and English languages. Developed by Greentech Apps Foundation, the app is not intended to provide fatwa or fiqh rulings, but rather serves as a resource for personal study and research.
Links: Website / Android / iOS
Never Miss Any Prayer In This Ramadan with These Apps
07. Pillars: Prayer Times & Qibla
Price: Free / No Ads
Pillars app is built with a long-term vision to elevate the Ummah by starting with Prayer (salah). The app is designed to provide a convenient and user-friendly experience for Muslims to improve their individual condition in multiple aspects of lives.

The app has several features, including no ads, which allows for an uninterrupted experience when using the app. The app is also privacy-focused and does not collect any user data for malicious intent.
As a Muslim-built app, Pillars has the interests of Muslims at heart, and understands the importance of Salah, the Islamic prayer, and the issues that Muslims face in their daily lives. The app offers early and late Asr time options, and allows users to choose their preferred calculation method for prayer times. And it will also help you find the Qibla direction.
The app also sends prayer notifications to users throughout the day, which can be disabled if needed. It has a beautifully designed prayer widget that users can add to their home screen for quick access to prayer times. Additionally, the app has a prayer tracker feature that helps users stay on top of their salah, perfect for new converts or those trying to improve their praying habits.
For women, the app has a menstruation (pause) button, allowing them to pause tracking and never miss out on a streak. The app also has a fasting tracker, which lets users mark days they missed fasting and days that have been made up.
Currently, the app is working on providing local mosque prayer times, including notifications, and will have more beautifully designed widgets in all shapes and sizes. Overall, Pillars is a comprehensive app for Muslims looking to enhance their spiritual journey through prayer with a perfect ramadan prayer app.
Links: Website / Android / iOS
08. Athan: Ramadan 2023 & Al Quran
Price: Contains Ads
Athan is an Islamic app that provides accurate prayer times, adhan time, azan alarm, Holy Quran recitation, log prayers dua & azkar, dhikr, new Islamic year dates in Islamic calendar, Ramadan calendar, Hajj and Umrah guide and Qibla direction.

The app provides accurate prayer timings worldwide and azan notifications to listen to adhan five times a day. The remaining time for each Salat and accurate Muslim prayer times of the entire day can also be viewed.
Athan Pink is a convenient experience for women's prayer needs, providing Duas to be read during menstruation, period tracker, and a Muslimah guide.
The app allows users to read the Holy Quran in English and other 45+ languages translations & transliterations, with the option to adjust font size and switch translations and transliterations on/off. Dua / Athkar (Supplications) are available in the app, and the Qibla direction can be easily found using the integrated Qibla finder feature. Users can view current Islamic / Hijri & Gregorian calendar, Umm-al-Qura Calendar, and a list of Islamic events of the Hijri year.
Ramadan Book helps users to log and track their daily fast and complete daily deeds to earn badges. The app also includes the PrayerBook, which allows users to track prayers by logging them in their personalized PrayerBook.
In-app purchases include an ad-free experience with the Athan Pro version. Athan app gives incorrect prayer times if the settings are incorrect, and the Qibla direction can be found by rotating the phone and making an 8 in the air.
Links: Website / Android / iOS
09. iPray: Prayer Times & Qibla
Price: Free / No Ads
iPray is a free-to-download app that provides accurate Islamic prayer times and Qibla direction for Muslims worldwide. The app is optimized for Android Pie, ensuring that it is both secure and battery-efficient.

One of the standouts features of iPray is its beautifully hand-crafted interface that displays both Prayer Times and Qibla compass on the same screen. This means that users do not have to switch between screens, and there are no ads, spam, or hidden costs.
iPray offers offline prayer times for any location in the world, so no network connection is required. It provides an easy-to-read display with heads-up information about the current prayer in focus. The color-coded display shows the progress of the current prayer, with yellow, orange, red, and bright red indicating the severity of the situation.
The app also features smart notifications that show what's most important, including the current prayer's elapsed time and the upcoming prayer's countdown. The notification is demoted during the day to stay out of the user's way and promoted when a prayer is 30 minutes away. Users can opt for 15-minute reminders to remind them gently that the prayer is about to begin.
iPray also offers a monthly timetable viewable by rotating the device, and a simple-to-use Qibla compass that is always on. The app also includes immersive animations, Islamic events, and various simplistic widgets for the desktop. Users can change every aspect of the calculation method used and adjust individual salat times with addition or subtraction of minutes to match timings from their local masjid.
Overall, iPray is an all-in-one prayer times app that provides Muslims with a comprehensive and customizable solution for their daily prayers.
10. Never Miss Fajr
Price: Free / No Ads
The app aims to solve a common problem faced by many Muslims who struggle to wake up for Fajr prayer, often turning off their alarm while half asleep and missing the prayer altogether. The app works by being as annoying as possible to ensure that the user is fully awake before turning off the alarm.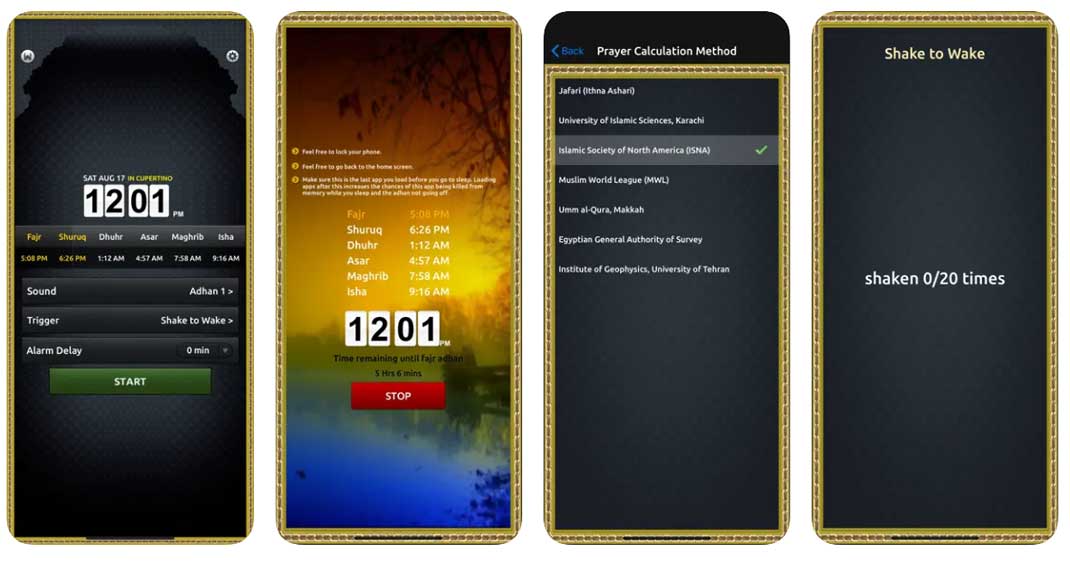 The app functions like a regular adhan alarm clock, with one significant difference. It continues to play the adhan in a loop and vibrates the phone until the user performs a specific action, effectively forcing them to wake up. There are two options to choose from to wake up – Trivia and Shake to Wake.
The Trivia option requires the user to answer five Islam-related questions correctly before the adhan shuts off. This feature helps engage the user's mind and requires them to be alert and awake enough to answer the questions.
The Shake to Wake option requires the user to shake their phone twenty times before the adhan shuts off. This feature requires the user to get out of bed and perform a physical activity to turn off the alarm.
Overall, the app is designed to ensure that the user is fully awake and alert before the adhan turns off, allowing them to perform Fajr prayer on time. It's an innovative solution to a common problem faced by many Muslims and could prove to be a valuable tool for those who struggle to wake up for Fajr prayer.
Learn Deen and Seerah In this Ramadan
11. Seerah of Prophet Muhammad ﷺ
Price: Free / No Ads
The Seerah app is a comprehensive resource for learning about the life of the Prophet Muhammad ﷺ, including his birth, teachings, and death, as well as the history of the Arab region before his arrival. It features the award-winning book on the Biography of Prophet Muhammad ﷺ called Ar-Raheequl Makhtum or Sealed Nectar by Sheikh Safi-ur-Rahman al-Mubarkpuri and also the contents from the Prophetic Timeline project by MRDF. The app highlights the importance of learning the Seerah, the history of the Prophet Muhammad ﷺ, for several reasons, such as understanding the Quran, developing a Muslim identity, and defending the honor of the Prophet.
The simple yet elegant Seerah app provides a modern and user-friendly interface that makes it easy to access information about the life of Prophet Muhammad ﷺ. The life events are presented in chronological order divided into eras, enabling users to easily follow the timeline of the Prophet's life from birth to death. The app also includes a summary of key information, such as a list of famous battles, wives of the Prophet, notable conversions, and more.
The lessons and wisdoms section is particularly noteworthy, as it presents deeper meanings, wisdom, and lessons extracted from important historical events. This section is particularly beneficial to those looking to develop a deeper understanding of Islamic history and its teachings. Additionally, the app includes edicts and rulings, multiple books, and a search function, allowing users to easily find specific information or topics of interest.
Another notable feature of the app is that it is free from ads, providing a seamless and uninterrupted experience. The app is regularly updated with new content, providing users with ongoing access to valuable information about Islam and the life of the Prophet Muhammad ﷺ.
Links: Website / Android / iOS
12. Deen Quiz
Price: Free / No Ads
The Deen Quiz app offers a range of features to help users learn more about Islam and test their knowledge. One of the main features is the large database of Islamic questions and answers in both English and Bangla. This provides users with a variety of options to choose from and allows them to learn in a language they are comfortable with.
The app also offers different categories and difficulties to cater to users of different levels of knowledge. This makes it suitable for beginners who are just starting to learn about Islam, as well as for those who have a deeper understanding of the religion.
In addition to the quizzes, the app also has a leaderboard that allows users to compete with others and see how they rank. This adds a fun and competitive element to the learning experience and can motivate users to continue learning.
The power-ups in the app also make it easier for users to answer questions, as they can skip questions, pause time or reduce choices when needed. This makes it more accessible to a wider audience, including those who are not confident in their knowledge of Islam.
Overall, the Deen Quiz app provides a user-friendly and interactive platform for learning about Islam. While it may not replace traditional methods of acquiring Islamic knowledge, it can be a useful tool for those who want to test their knowledge or learn more in an engaging and fun way.
Links: Website / Android / iOS
Conclusion
This Ramadan can be a great opportunity for Muslims to focus on their spirituality, productivity and self-care. With the help of these best ramadan apps, it's possible to make the most of this blessed month without having to worry about getting overwhelmed. By embracing technology in our religious practices, we can achieve a better balance between our spiritual and worldly pursuits. So, let's use this Ramadan as an opportunity to bring more meaning into our lives and get closer to Allah!
Stay Up To Date
Don't miss our latest updates & releases